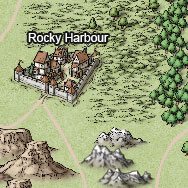 You can build a guild storehouse here. Once built everyone in the guild can add and with permission from the guild leader, remove from the storehouse. This can help your guild work together.
From Rocky Harbour you can sail to Henley Harbour on Labrador, the second island for 10 gold, or for free if you have a boat in your inventory.
You can also use the "Study Carpentry" link to train the carpentry skill. It costs 2 gold per session (timer) at level 1 and has a timer of 60 seconds. You get 10 experience per timer. You can also use the sawmill to make lumber from your logs & build boats at the boatyard.
Community content is available under
CC-BY-SA
unless otherwise noted.